New office space located in the Pearce Arrow Building, North Buffalo
April 24, 2014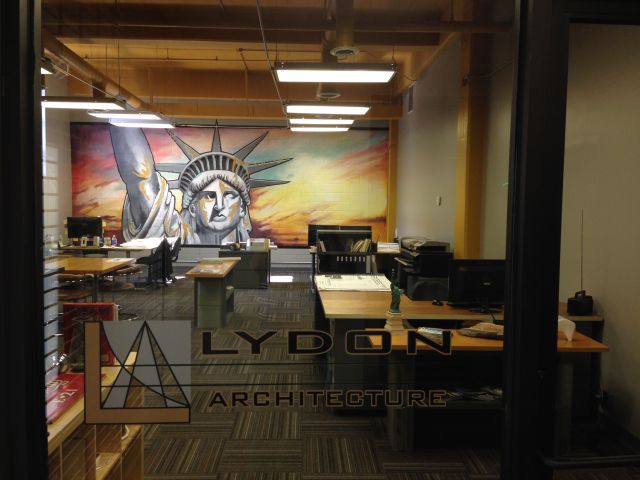 We are open and looking for business!
With the help of Sandy Nelson, local Interior Designer (IDA of WNY profile), and President of Design of the Times, the space was transformed from cold and stark to lofty and beautiful.
We removed the existing dropped ceilings, leaving the flourescent light fixtures in place, and hung them individually from a freshly painted gold ceiling. Spiral ductwork was installed to achieve a clean look while maintaining functionality and carpet tile was installed to bring a feeling of warmth and help to stiffle the acoustics of the large airy space. The gold ceiling acts in direct contrast to the dark colored walls and together represent a modern industrial feel while bringing comfort to anyone who enters.
An existing doorway into an adjactent office was filled in (see photo #1 below), giving local mural artist Russ Mott a large blank canvas for him to work his magic. The subject of the mural, the statue of liberty, has always been an inspiration for John Lydon. Citing it's representation of process and selflessness by it's creators, the French. "It is not what is made or what is done, but the doing that is important".
With the lofty ceilings, spacuous feel, fresh colors and inspirational mural, the new space has really come to life and become a centerpiece for architectural brillance.
"Forests were the first temples of God and in forests men grasped their first idea of architecture"